Footbag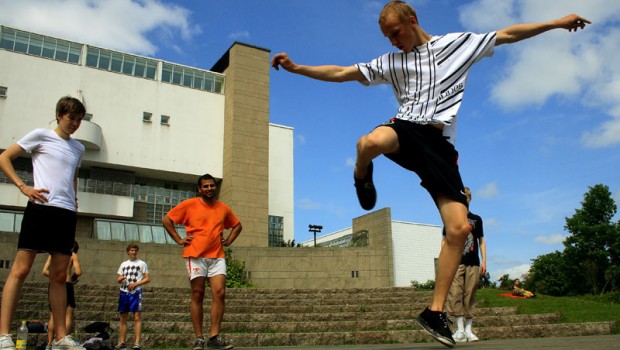 Published on March 11th, 2014 | by Jay Boychuk
0
Juho Marjo Interview – Footbag Eurotour
Juho "Super" Marjo started playing in the year 2000, when he was just a boy at a mere 10 years old. He is a very unique player, who is best known for his amazing style and long term video history. Since he began he has won many video contests, the Finnish Championships, and got 3rd place at the world championships when he was only 17.  Despite his successes, Juho can often humbly be found in the middle of Finland, fishing, snowboarding or in the sauna; completely out of the spotlight.
Many Footbag players train by spending the majority of their time playing footbag, and avoiding the heavy involvement of other sports. Juho is very different, in that he is one of the few who takes a break every winter to involve himself in winter sports (Very easy to do when you work at a skiing resort in Finland).  As a man of few words, we are lucky to have been able to spend a week with him above the arctic circle, sharing his winter holiday and squeeze in an interview.
So Juho, how did you start playing Footbag? 
Well, it was so long ago I don't remember exactly, but I can tell you that it was largely because of Jere Vainikka, who was going to school in my area at the time. In 2000 Footbag was really trendy in Finland, and in my town of 5000 people there were at least 5 kicking consistently.
Jere was already quite good at the time, and many years older than you. What kind of role did he continue to play in your career?
He was really like my brother. He was extremely into Footbag back then, and we would play for hours and hours in the summer, only taking breaks to re-watch our Footbag VHS tapes.  When we couldn't play footbag, we played table tennis and video games.
There are many videos from you from when you were very small, at tournaments playing footbag. How was it going to tournaments when you were so young?
Well, Jere also was my tournament companion, so I was able to go with him and be looked after. My first tournament was actually the Finnish Championships in 2000, but my first tournament on film was the Finnish Championships of 2001.
How did you do in the early years, against people much older than you?
In those days, there were many more people competing in the intermediate category. Footbag was still young in Finland, so there were about 50 players in intermediate, and only 15 or so in Open. As it turned out, I actually won intermediate routines in 2000, with 3 drops. My parents were stoked.
When did you start to see success among the big league players?
In 2005 when the World Championships were in Helsinki, I was training really hard. The level in Finland was already really high by then, and I had big competition at home and abroad. I remember in qualifications, I did a dropless shred 30, and Peter Irish was so stoked! After that I performed very poorly, but I had made so many great videos with Jere that I was inducted into BAP.
The next year I continued training for Worlds, and was playing by myself about 5 times a week for 2 hours a day. My Finnish army service was after worlds, and I was going to have to take a break. Circle contest was new for 2006, and unfortunately I injured myself, but was able to rest up for routines. I trained hard and practiced a 260 point shred 30, but unfortunately I dropped it. Luckily I was able to use that as extra motivation for routines, and went dropless to get Bronze.
So after that I understand that you took a break for about a year, due to the army. How did your career go from there?
I played footbag rather inconsistently then, as my motivation for it had gone down. At this point, my motivation for footbag was similar to any of the other sports I did, for example snowboarding. I find that Footbag and Snowboarding are actually very similar in your mind, since in both you are so free; that is exactly why I love sports. You are free to do what you want. I also played ice hockey with friends, and football in the summer as well. I think that playing so many sports was good for my footbag, because I had good all round muscles and balance. Taking breaks from footbag helps your body heal, and also helps mentally. The break also helps with motivation when you start again, and your experience from other things helps bring other attitudes and strategies to your game.
What has been your approach to your game and competition since then?
Lately I've really been enjoying the community, making videos and the experiences rather than the competition. Before worlds in 2009 at Berlin I didn't do any comps for two years. The worlds in 2009 were kind of motivation to get back in the game after long break, but after that competition hasn't been a huge goal for me. Actually the last time I did a routine in a competition was in worlds 2009. I am excited to be in shape for the tour and compete seriously again. But in general I can definitely say my focus is now more on filming footbag.
When you were first asked about the Sport/Life Footbag tour, what were your thoughts?
I have been playing long enough to know this was a great opportunity. I haven't yet been to multiple of the countries on the tour, and to travel promoting the sport I love with great people was very appealing. After checking into my school and work schedule, I was in.
What are your goals nowadays? What sorts of things keep you going?
I still have many tricks that I want to hit, which motivate me to keep training. Competition is no longer my biggest focus, but I still have the desire to play for myself and continue getting better and improving my style.
Would you like to share what some of those tricks are?
You'll have to wait and see when I hit them 😉