interviews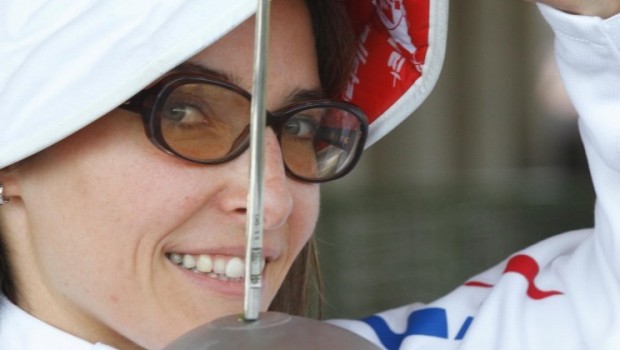 Published on February 13th, 2014 | by Daniel Boyle
1
Interview – Chilean Fencer Caterin Bravo
Chilean fencer Caterin Bravo has been a key part of the growth of the DAR Chile organisation. Sport/Life talked with her about her experiences in the group.
DAR Chile has already been running for more than a year. What's the great success of DAR Chile?
First of all, it's that we could form a group, made up of people ready to lead, ready to do new things and the truth is what we are doing has attracted a lot of attention, including from the athletes from other countries. For high performances athletes, the things we have the least of is time. What we are doing something that is really different from normal.  We have a radio program, by athletes, we have our office here, for athletes. It's something that was born from ourselves. That is something that characterises what the Agrupación DAR Chile is doing.
What's the next stage for DAR Chile, after the South American Games?
Good question. The reality is that we are all concentrated on the South American Games. We wanted to have the office running a little earlier, but with so many things to do, we're doing it now. We're going step by step. Our group was very present in the elaboration of sporting policies.
We were supporting the creation of the Ministry of Sport, the Ley de Modificaciones de Federaciones. Constantly having meetings in La Moneda, previously with Cecilia Pérez, who was in charge of sports through the Segegob, later with the Senator Soledad Alvear for the theme of the federations. We are moving, we are present each time there's a sporting activity, for the people who are organising.
We are very conscious of our directive lines, there are three. First of all, that all of the high performance athletes know about the organisation, and have a place where we can communicate between each other. Second, that all the relevant information for us be concentrated in one place. From there, any athlete that needs any kind of help, can make a call and we can help mutually.
The third, and for me the most important for the long-term strategy, is that we want to be part of the change of the sporting culture in this country. For this we are always supporting all kinds of initiatives and events. From doing workshops about values and sports demonstrations in schools with low resources, up to being there at they laying of the first stone for the velodrome in Parque Peñalolen.
All the sporting organisations in our country that ask for us to be present, we don't just want to answer the call. We want to be present, we want to be part of the change, and that's one of the parts that motivates us to keep going with the organisation.
What are the expectations for the South American Games?
Well, what's important is to always try to improve on the medal count for each country. Now, the sports that are here in Santiago 2014 may not be the same as in Medellin in 2010, so really to make an analysis you have to look into it seriously, not just compare by the total count. The analysis will be a little more complicated, and must be done in a rational manner. Like all sportspeople, you always want to improve upon your previous result. I don't think it's necessary to set huge targets. The objective should be to improve each time. If we achieve that, we're doing well.
The Games are a great chance to make that cultural change, but there's not too much promotion…What can be done in the next month?
First of all, to continue reinforce what's already been done. For example, there is a big banner above the Feria Artesenal de Santa Lucia, that's a huge promotion. Who doesn't pass by the Alemeda – many people are going past there. The people in the street are starting to realise that "something" is taking place in March. Some kind of "Juegos", but there is a great lack in the sporting culture. But they're getting a little flash that something is going to happen. I think that it well help a little in improving the sporting culture.
This event alone is not going to make a great change. This event, along with other projects that are happening, this is going to create the change we are looking for. For example, private companies doing running and cycling events. The programs from both public and private institutions are going to make the change.
What's the goal for DAR Chile in 2014?
To consolidate everything that we've done so far. I think the next step will be to intensify the push to change the laws in respect to the needs of high performance athletes. There are three things, which are the same as any person. To have a normal health insurance program. Many of the athletes don't even have FONASA (Government health fund), then there's the theme of cotizaciones (superannuation). I've been an athlete for more than twenty years and have never paid into an AFP. The last is the issue of the power to study.
For us, to focus on our sport, we have to freeze our studies, there's no chance for our academic development. It's not the same as someone who is dedicated 100% to studying. These are things that can be done, it's quite simple. Instead of paying full price for the studies, why can't high performance athletes take one or two courses per semester, and pay the proportional price for that? This would create a huge change. The create a statute for high performance athletes, maybe could increase the amount of athletes that Chile has by ten times, because at this moment going to university is seen as the "tomb of the athlete". At the moment there are two options. Take the "regular" path and continue as is, or "I'm an athlete, I'm going to represent my country, I'm going to get superannuation or health insurance, and I'll study all the same."
With this vision, I am sure we can have many more sportspeople here in Chile. It's quite normal in other countries, it's something that we are missing here.
Anything else to add?
We are making history. And we need much more energy to keep doing that.