Footbag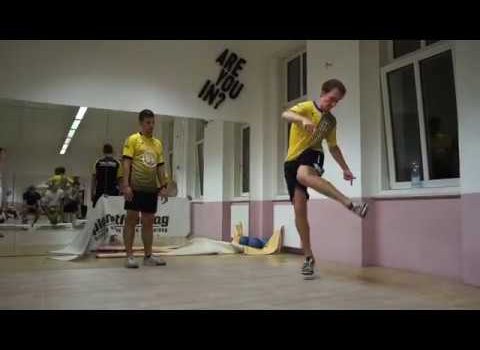 Published on October 27th, 2018 | by Daniel Boyle
0
Footbag on Instagram – October 2018
The months fly by and here is another round up of what's happening with footbag on Instagram. There are plenty of players sharing their tricks from all over the world.
Here's something from me at the Melbourne Central YHA rooftop. I actually shared a similar clip from the same location about a year before.
Rafał Kaleta – Barraging SS Motion
This is someone who has featured a number of times in these monthly roundups.  This is a trick I'm not sure I have seen before. He is someone who has been on the scene a long time, but really keeps pushing the boundaries lately.
Austrian Championships
This time of year there are plenty of competitions throughout Europe and the Austrian Championships had a great attendance. Here's a clip from before the competition with Dominik Simku in fine form. You can see further action in the edit from Ivan Iakimenko at the top of the post.
Blurry Drifter – In Pants
It's most common for footbag players to be wearing short sports shorts in order to have room to move around the bag. Not everybody needs that though, and here's a smooth Blurry Drifter from Japan.
Franck Remy Footbag
Franck Remy is renowned across various disciplines and here is a cool little run of hims playing some footbag in Portugal. Looking at his profile he has recently competed at the King's Cup for Sepak Takraw in Thailand as well.
Honza in the Seychelles
Honza Weber recently treated us to a video of his time in the Seychelles, with some amazing backdrops. It was also the location of his wedding, so congrats to the new couple! Here is a clip at this side of a cliff with some big ocean views with some different swirl varieties.
Pawel Motorov in Russia
This memory post looks to be a throwback to the World Cup held in Russia earlier this year, with Pawel Motorov putting on a performance for the passing crowds.
Horse Chestnuts
Mads Hole recently featured Vasek Klouda and Dominik Simku using horse chestnuts to kick with in one of his videos from the World Championships in Sofia, Bulgaria. Looking at the video, they work just fine, straight from the tree!
Shredding at the Louvre
I mentioned earlier it has been a busy time in Europe with regular competition, and Matt Kemmer has been to quite a few of them. I am always a fan of kicking in front of iconic buildings, so here is a clip from Paris.
Footbag Advertising
Footbag is part of an advertising campaign in Canada encourage more physical activity. Apparently doing so will have you "pooping better"! Camille Surovy is showing her skills in the video.
Muppet Footbag
Now this a new take on some classic stories, with a Muppet appearance as well, with Miss Piggy playing with her "Golden Hacky Sack". It looks to be from a collection of Muppets-related takes on the Brothers Grimm fairy tales.