Footbag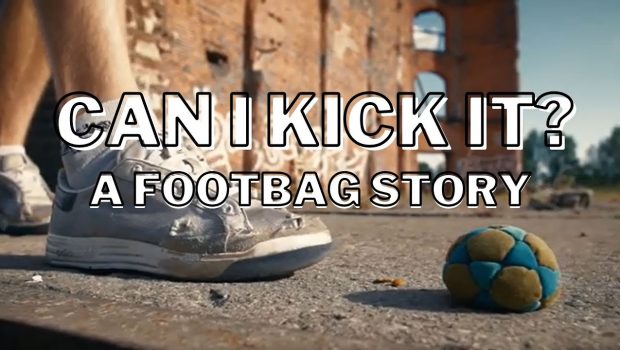 Published on January 30th, 2023 | by Daniel Boyle
1
Footbag Interview – Brian Johnson – Can I Kick It?
After returning the sport of footbag, Canada's Brian Johnson is looking to document the roots of the sport and how it grew from the early days in Portland.
You've returned to footbag after a long layoff. How are you feeling about returning to the sport?
Almost 2 decades off! I am loving playing again, I get to re-learn the things I used to be able to do, and it's a ton of fun.
View this post on Instagram
You've got a movie project in the works, looking back to the roots of the sports and how things spread from there. How are the plans for that coming along?
Everything is coming along really well at this point. The community has been super supportive, and I think the story of footbag will make an amazing film. I'm actually surprised no one else has taken on the task of making a documentary until now.
What do you hope to achieve through the movie? Is there anyone that you think is key to being involved?
As you mentioned, the focus of this film will be on the origins of Freestyle Footbag, from the early 80s through the 2000s. It will feature interviews mixed with shred footage – both current and archived. I'll be spending a lot of time in Oregon, where the sport began. I'm hoping to be able to interview the co-founder of footbag, John Stalberger. Another very important individual to modern freestyle is of course Kenny Shultz. I've been in contact with him and he has agreed to be part of the film. If skateboarding has Tony Hawk, footbag has Kenny Shults. I don't think the film would be the same without him, so I'm glad he is on board.
My hope is that the filming and subsequent release of 'Can I Kick It' will catch the eye of a whole new generation of players. A lot of kids these days don't even know what 'Hacky Sack' is. History tends to repeat itself in a cyclical way, and I think if we can present footbag in a fun, appealing way, we could see a lot of new players wanting to take up the sport.
Tell us some more about the Elysium Project. What other filming projects have you been involved in?
Up until now Elysium Project has just been producing podcasts, but the vision has always included TV/Film. I've done filming/editing work before, but nothing on the scale of a feature length film. It's obviously a huge project to take on, but that's where I find excitement.  I love challenging myself, which is probably part of what appeals to me about footbag.
Do you have any particular inspirations in mind for the style that the movie will take on?
My biggest inspiration in terms of what I'd like to emulate, is the 'Bones Brigade' skateboarding documentary, which I believe is available to stream for free on YouTube. I really feel freestyle footbag shares a lot of similarities with the sport of skateboarding, in terms of both the origins of the sport, and the technical aspects of how tricks build on each other.
You mentioned in the recent interview with Nick Polini that you have an Obsessive Compulsive diagnosis. How does that help and/or hinder your footbag?
That was actually the prime reason I stopped playing footbag in 2003, due to OCD, though I wasn't diagnosed until a few years later.
I've learned a lot over the years of how to manage OCD. It's a blessing and a curse, but I tend to hyperfocus on details which a lot of people overlook. So I think if one can learn how 'tame the beast' – so to speak – one can use OCD to their advantage in areas which require close attention to detail.
Do you have plans to do some more footbag podcasts? I imagine that will help with the movie project.
I would like to, however once filming begins my focus will be exclusively on the film. I tend to take on too much, and given the scope of the documentary, I don't want to overextend myself.
How is your body feeling coming back into footbag a bit older and maybe wiser?
View this post on Instagram
I'm not nearly as quick as I used to be. It blows my mind seeing players like Scott Davidson or Skyler Lon Smith still shredding at the level they are. I've learned I can't do symposium tricks anymore because of the impact, so I've had to adjust my style a lot. My main focus these days is just having fun.
How do you look back on your time in footbag?
It was and still is an amazing community of athletes! I think the biggest change is that now everyone can share videos together online. Back in the early 2000's and prior, we couldn't really do that. You had to either obtain a VHS that someone made, or see them in person at an event. It was a different time, and that underground growth is a big part of the story that I'm hoping to capture through the film.
You live on Vancouver Island in Canada. How is the lifestyle there? 
I just moved out here and I love it. It's a huge Island, but definitely retains that 'island vibe'. Everyone is super laid back and friendly. It's the perfect place to play footbag, so I'm excited for the Spring and hoping to start up a local club.
Do you have anything else you would like to add?
I just want to shout out to Zachary Forth, as he will be part of our post production team, adding his blotter animation and rotoscoping to some of the shred footage. I think what he does is amazing, especially for people who find it hard to follow the footbag. If you haven't seen his work yet, check him out on Instagram @zach4thlife.
Thanks to Brian Johnson for the interview. Not to be confused with this guy…
We look forward to seeing how the final product comes out.