Sports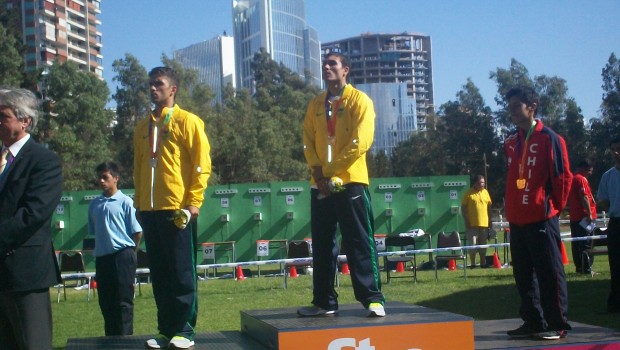 Published on March 9th, 2014 | by John Lyons
0
Pistol pain for Bustos as gold dreams die
Esteban Bustos was left with a bitter taste in the mouth after seeing his hopes of modern pentathlon gold go up in smoke in controversial fashion.
Las Condes – The 21-year-old led from the first event of the competition and looked on course to bag gold for Chile going into the final combined event of cross country (3,200m) and pistol shooting.
He had a 22-second advantage to play with and it was soon clear that the run wasn´t going to be a problem as the slightly-built Bustos was rapid over the ground. The question was whether his shooting would be up to the job.
However, in the middle of the competition, things took a turn for the worse for the Chilean when it appeared his pistol failed to work properly. That cost Bustos vital time and allowed two Brazilians to overtake him.
With one of the four 800m laps remaining, Bustos tried everything he could to close the gap, but it was just too big a bridge to cross and he had to settle for third place.
Brazilians Felipe Nascimiento, who started the final combined event in fifth place, and Danilo Fagundes, who went off third, fought out a thrilling sprint finish for the gold medal, with Nascimiento just having the edge.
However, Bustos and the Chilean fans at Escuela Militar were left wondering what might have been after the pistol problems. Event organisers and Chilean officials checked the malfunctioning pistol afterwards, but there was no change to the result.
A clearly distraught Bustos tried to put a brave face on things afterwards, but it was clear that losing the gold on home turf in such dramatic fashion will take some getting over.
He said: "I wanted to win and I prepared to win. Did I deserve to win? I believe yes. Despite the problems with the pistol, I ran strongly and did everything I could.
"We´re going to see what happened with the pistol, but I finished third and that´s the result."
It was a crying shame that such a brilliant day´s sport ended in such controversial circumstances. Bustos began his day with a fantastic performance in the fencing, winning 30 and losing eight to lead the standings with 268 points. His closest challenger was Argentina´s Sergio Villamayor, who won 26 and lost 12 to earn 244 points.
Brazil´s Fagundes, Venezuela´s Julio Luna and Chile´s Gonzalo Tisi shared third spot with a 24-14 record (232pts).
Bustos was only the 11th fastest in the 200m swimming, but it was enough for him to remain in first place with 568 points. Luna moved into second place with the second-best time in the swim (2mins 6.48secs, 553pts), while the fastest swimmer, Argentina´s Leandro Silva (2.03.03), rose to third with 545pts.
The showjumping proved a real test for all the competitors and there were fallers and fences knocked over. However, this was an event where the Chileans and the Brazilians shone.
All three of Chile´s competitors, Bustos, Tisi and Benjamin Ortiz, had clear rounds, while so too did Brazil´s Luis Magno and Fagundes. They all picked up 300 points, with Ortiz, only 18 years old, and Magno sharing first place in the event.
That meant Bustos had a 22-point advantage over Luna going into the final round, with Brazilians Fagundes, Magno and Nascimiento all a little further back.
Then came the fateful combined event that ruined all Bustos´s fine work – and left the Brazilians celebrating a one-two.
Winner Nascimiento clocked 11mins 12.17secs to win the combined trial and gain 628 points for a total of 1,447. Fagundes came home in 11.33.38 for 607 points, 1,446 overall. Bustos timed 12.11.55 and finished with 1,437 points.
Chileans Ortiz and Tisi came ninth and 11th respectively.