Basketball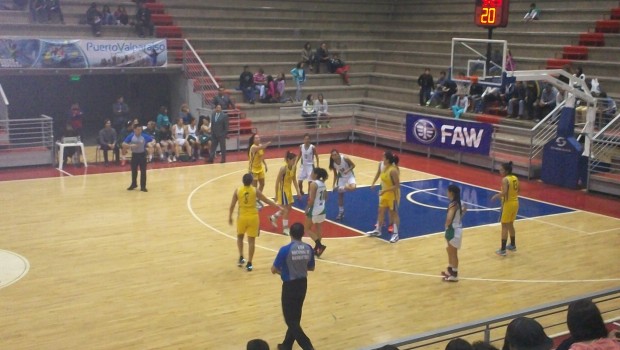 Published on April 28th, 2014 | by John Lyons
0
New Crusaders beat Boston to fire out title warning
Chile international Catalina Abuyeres helped New Crusaders beat Boston College and warned: "We have the team to be champions."
Ñuñoa – The Valparaíso-based side launched their ´Liga Femenina´ season with a highly impressive 92-76 victory against the reigning champions at the CEO II – and Abuyeres played her part.
The 17-year-old scored 16 points and made 18 rebounds as the New Crusaders shocked Boston College with their swift and incisive play.
The Crusaders led by just a point at the break, 50-49, but it was in the second half when they were able to open up a decisive advantage. The lead was six points by the end of the third quarter, 71-65, and the hosts stretched their advantage in the final quarter.
Valentina Aragonese top scored for the New Crusaders with 18 points, while Francisca Rojas scored a game-high 26 points for the losers.
While the New Crusaders impressed, it´s back to the drawing board for Boston College, who failed to make their shots in the second half and stumbled to defeat.
The vibe is all good, however, for the new-look Crusaders, who had to switch the match to Santiago because their Fortín Prat home is being used by Valparaíso fire victims.
A delighted Abuyeres said: "All the games are difficult at first, but the girls are in good shape. We wanted to take the game to them and in the end we demonstrated that we could.
"We have the team to win the league and I hope we can this year. We want to be champions."
On a personal note, the Chilean international made an encouraging start to the new season and continued where she left off in the South American Games last month, when she helped Chile to silver.
She added: "I scored 16 points and made some rebounds, so it shows I had an impact under the basket. I want to keep on improving every day, score more points and make more rebounds."
In the other matches in the Centre-North Zone on the opening weekend, Universitarios defeated Sergio Ceppi 68-67 in a thriller and Club Brisas overcame Corina Urbina 62-51.
In the South Zone, Castro got off to a flying start with two away wins. They beat Kingston College 53-37 in Concepción on Saturday and Araucania 64-48 in Temuco on Sunday.
Puerto Montt also had a win on the road. They triumphed 93-57 at Universidad Austral in Valdivia.