Football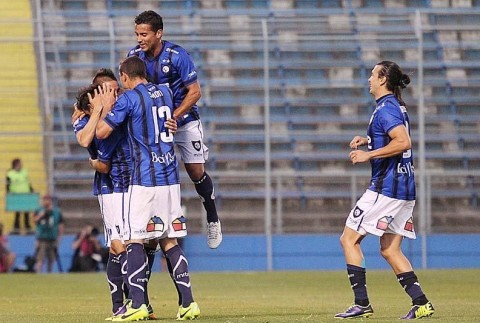 Published on September 18th, 2014 | by John Lyons
0
Huachipato shine in Copa Sudamericana
Promising striker Andrés Vilches struck twice as Huachipato beat Ecuador´s Universidad Católica 2-0 in the first leg of their Copa Sudamericana second round tie.
On the eve of Chile´s independence celebrations, the acereros did the country proud with an excellent performance.
Chile´s last remaining competitors in the Copa opened the scoring in the 13th minute. Lucas Simón crossed low from the right, the visiting defence made a mess of clearing and Vilches prodded the ball home from three yards.
With midfielder Carlos Espinosa pulling the strings and new Chilean international Martín Rodríguez showing all his skills, Huachipato showed why they are currently one of the country´s top teams.
Even after the departure of Apertura top scorer Simón with a knee injury, Mario Salas´s team continued to impress.
And in the 48th minute they doubled their lead when Vilches was on hand to nod the ball home from close range. He is the leading scorer in the Copa with four goals.
In the closing stages, Huachipato lost some of their intensity and Católica started to carve out good chances. However, the visitors couldn´t find the away goal they craved and Huachipato travel to the second leg in Quito next Thursday with a great chance of qualifying for the next round.
The incentive to reach the last 16 is a big one as the winners earn a tie against Brazilian giants Sao Paulo, who include the likes of Kaka in their ranks.