Basketball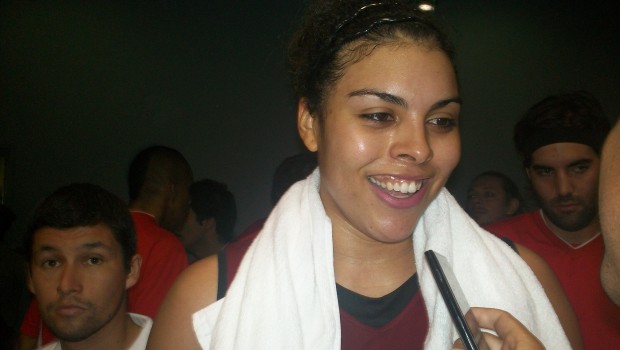 Published on March 15th, 2014 | by John Lyons
0
Glory, glory night for Chilean basketball
It proved to be a memorable night for Chilean basketball at the South American Games as both men and women qualified for the final.
Ñuñoa – A bumper Friday evening crowd packed into the Centro de Entrenamiento Olímpico II to see if the Chilean teams could maintain their 100 per cent records.
They both achieved it after tough matches, especially the women. They were first up against Paraguay and it proved to be another cracker. After nail-biting wins against Colombia and Ecuador on the two previous night, it´s becoming a habit.
Paraguay were short in size, but big in stature and their three-point shooting in the first period was exceptional. They established a 27-19 lead in the first quarter, though Chile turned things around to lead 45-41 at the break.
Star player Ziomara Morrison and three-point specialist Barbara Cousiño were pivotal to the Chilean comeback. Morrison helped herself to 21 points in the first half, while the red-hot Cousiño hit 13 points in the second quarter alone.
But Paraguay were no mugs and they fought like tigers to stay in it. They knew that a victory would give them the edge in the race to reach the final and were still in it when they trailed by just two points, 69-67, at the end of the third quarter.
It was only in the closing minutes that Chile finally managed to wear down the gutsy Paraguayans and, cheered on by the noisy home supporters, they ran out 92-80 winners.
Morrison finished with a magnificent haul of 41 points and 17 rebounds, while Cousiño, who had an inspired night, scored 25 points. For Paraguay, Tamara Insfran (22), Vivian Aponte (20) and Maria Mercado (19) led the way.
The victory means that Argentina and Chile both have four wins from four matches and can´t be caught by Paraguay (two wins), Colombia (two), Ecuador (zero) and Bolivia (zero).
Chile and Argentina will now meet in successive matches. They play a dress rehearsal for the final when they meet in the final round-robin group match tonight (9pm) and then go head-to-head in the final on Sunday (9pm).
With the crowd still buzzing from the women´s success, it was the turn of the men to see if they could do likewise – and they didn´t disappoint.
Chile knew that a victory would guarantee their place in the final against favourites Argentina, while Colombia would be in pole position if they could upset the hosts.
Miguel Ureta´s men began the match slowly and it seemed as though Colombia´s team of giants were going to be a real headache. Skipper Erik Carrasco bagged nine of Chile´s 12 points in the first quarter to show all his experience, but the visitors, backed by a sprinkling of fans, led 14-12.
It was in the second quarter that La Roja took the game by the scruff of the neck. With Claudio Naranjo shining, Chile took a 37-26 lead into the break against a misfiring Colombia.
In the second half, Chile remained comfortably ahead, though the visitors did manage to cut the lead to five points with 2 minutes 28 seconds left. However, Carrasco´s nous to control the game and sink his free throws again proved invaluable.
Chile won by ten points at the end, 68-58, to stamp their final place and spark jubilant celebrations. Carrasco (17), Sam Bravo (13) and Naranjo (10) were Chile´s top marksmen, while Jorge Salazar notched 14 points for a Colombian side that flattered to deceive.
Chile´s men are now in an identical situation to the women. After three wins from three matches, they play Argentina in tonight´s final round-robin match (7pm) with both teams already qualified for Sunday´s final (7pm).
It means tonight´s matches for the men and women are likely to see the coaches rest their key players in a bid to keep them fresh for their respective finals.