Crowdfunding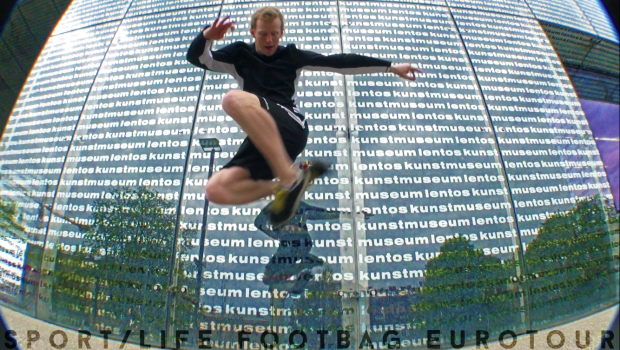 Published on June 22nd, 2014 | by Daniel Boyle
1
Gatesman Goes to Crowdfunding for Footbag
After impressing on the Sport/Life European Footbag Tour, Evan Gatesman has his eyes set on the World Championships in Paris.
In order to fund his training and travel costs, Gatesman has set up a crowdfunding campaign on Crowdtilt. The crowdfunding site made world headlines when a group of Dogecoin enthusiasts helped get the Jamaican Bobsled Team to Sochi. More recently, fans in Richmond, Virginia raise $70,000 to get Foo Fighters to play in their city.
Evan Gatesman looks well on the way to reach his target, having raised $1,190 within the first week. At $1,500 his tipping point is already close, while the overall target is $2,500.
The Las Vegas player, known for his smooth style, picked up a new trophy in Hamburg, having time to demonstrate for a crowd ahead of the televised World Cup match between Germany and Ghana.
Following on from the Sport/Life tour, "The Silencer" is the first player to use to Happy Seven hostel in Gdansk, Poland as a base for travel to footbag competitions. Owned by Australian footbag player Caroline Birch, the hostel hopes to host players from all over the world as they prepare for competitions.
The next major tournament is the European Footbag Championships, which will be held in Turku, Finland. Euros has a crowdfunding campaign of its own, turning to IndieGoGo in order to raise extra funds for the tournament.
Both campaigns have shown strong support from within the community, with the Finnish effort raising 555 Euros so far. Their campaign uses flexible funding, while Gatesman must reach the tilting point to receive any of the contributed money.
To know more about Evan Gatesman and his thoughts on the sport, you can read a full interview with him on the BSOS.IT footbag website.