Footbag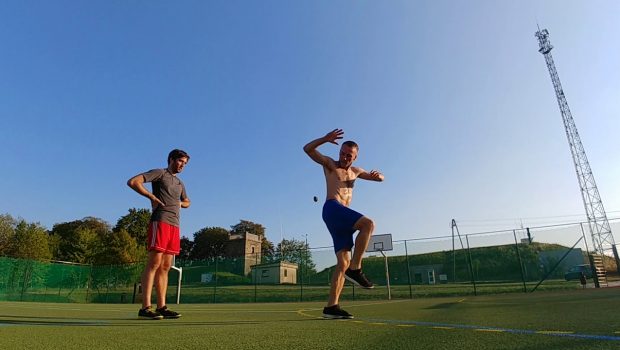 Published on July 3rd, 2022 | by Daniel Boyle
0
Footbag on Instagram – June 2022
All the action from footbag players on Instagram from June 2022. With Worlds on the horizon we are seeing some players upping their game.
In very exciting news, both Euros and Worlds are coming up in July. Both events will be held in Poland. It's great to have the high level footbag events happening once again in real life. Unfortunately I won't be able to attend but will be looking on with excitement from afar. Let's see what has been in store from the footbag community in the past month.
Squash Sessions
I've recently been playing some games of squash with a friend and having a short session afterwards. The squash court has been a common place to play for those locked away but winter weather. It looks like we are in for a fairly tough winter in Canberra this year.
View this post on Instagram
Wiktor Debski Hall of Fame
A very much deserving recipient of entry into the Footbag Hall of Fame is Poland's Wiktor Debski. In terms of organising, he has done so much for the sport, really building up the scene in Poland including large corporate events. As a player he has excelled both at freestyle and net, still challenging for titles.
View this post on Instagram
Vibes
View this post on Instagram
It says it all on the shirt. Brain "Bear" Sherrill with some California vibes. Really mixing it up with some sitting down tricks, huge bags and a focus on flow.
Master of Youth
View this post on Instagram
Ken Moller has had his Guiness record verified, continuing on as the oldest competitive footbag player.
Lots of fun memories
View this post on Instagram

This post from the "Hickory and Elm" account talks about the great memories made kicking around, and a number of us have certainly had some great experiences. Different footbags, events and people will bring back so many different memories.
Red Rocket Returns
View this post on Instagram
Speaking of memories, there are few better styles in the footbag game than New Zealand's Phil Morrison. It was great to see him back in action.
I had the opportunity to kick with Phil in Christchurch a few years ago, which may have even been his most recent session.
20 Years DST Footbag Club
The 20 Year marks was celebrated for the DST Footbag Club in Strzelin, Poland. Among their members are the Ostrowski brothers, as well as Rafal Kaleta. There looked to be some great celebrations, including an awesome cake!
View this post on Instagram
MuseumsQuartier
View this post on Instagram
Speaking of favourite memories, the MuseumsQuartier in Vienna, Austria was one of my favourite places I have played. I was always treated very nicely by the Austrian footbag crew and would love to return sometime.
Pick it Up
View this post on Instagram
This one is an interesting shot of something we all need to do quite regularly. Pick up the bag and start again.
Flurricane
View this post on Instagram
Bruce Li from China has been posting a string of impressive individual tricks lately. This Flurricane is no exception.
Keep Up
View this post on Instagram
Here is a cool picture to round out our roundup, Keep Up Sports from BC, Canada, with an impressive picture of some footbag net action. That's the end of our June 2022 Instagram posts.
That's a wrap on the action for June 2022. Let's see what happens in the coming month. Hopefully we're going to see some great action from Euros and Worlds.