Footbag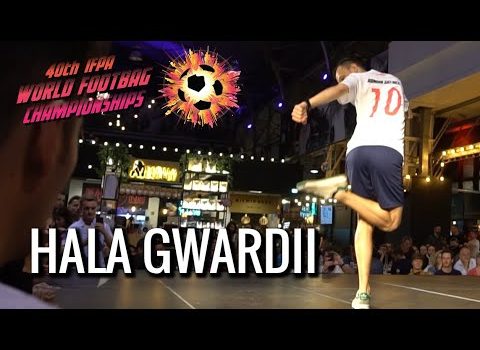 Published on December 29th, 2019 | by Daniel Boyle
0
Footbag on Instagram – December 2019
December 2019. Another year almost gone. Here are some kicks from footbag players on Instagram.
The Joulukalenteri and Link of the Day challenge are running as per usual in December, though I will try and get a bit of variety in the posts for the wrap.
What have I been up to? I've joined a gym and it has a pool, outdoor and indoor. Good place to kick by the pool. Got a few good tricks there yesterday.
Christmas Colours
Here's Angelo Rendon wearing the appropriate colours for the festive season! Been a while since we've seen much from him, so great to see some kicking.
Woah, Breakdown
Here's Johnny "Breakdown" Sarah on the comeback trail from injury boosting his level at low impact tricks. All the best on the recovery.
Take Your Marks
Here's Mark Monistere from New Orleans with a great run. He has really mastered the swirling sets, but great to see some more variety here. Also great to see Mark shredding on the regular and lots of Instagram posts lately.
Hacky Ho Ho Ho
How's this for a Christmas tree…
Energiser Enlightener
Scott Davidson, this man never stops. The former World Champion going at it, celebrating 4747 days in a row. Strong effort.
Sid Tha Kid
I don't have much background on this, but this character plays hack, so he's cool by me.
Batman Hackman
The Bat Symbol is calling. It says: Go and kick by the beach.
We've all been there…
Every time…
There was a thread on Modified long ago about this, I will have to try to dig it up. Some really bad injuries from this type of thing.
Sports Mix
Here is someone working on their hack skills in what looks like a big mix of sports, including lacrosse and maybe some tennis too. Every now and then you see sports team kicking around to do some warmup activities. Hope to see more of it.
The Joulukalenteri
I said I would avoid the Joulu, but just want to say great effort from Dante running the annual Christmas calendar this year. I was happy to be a part of it once again. Look forward to another great collection next year.
Here's a playlist of the calendar as well for good measure, thanks to Lon Smith.
So that's it for December 2019 and the year. Thanks for tuning in and thanks to all the players for making an awesome community on Instagram.