Footbag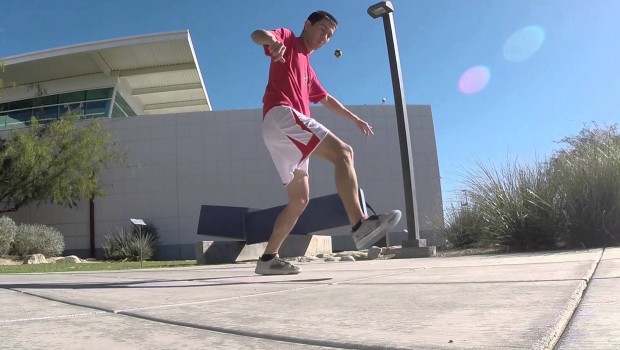 Published on December 11th, 2015 | by Daniel Boyle
2
Footbag Joulukalenteri 2015 – Day 11 – Cactus Ken Somolinos
Day 11 comes from the fruitful combination which has developed between Ken Somolinos and Ivan Iakimenko in the USA.
Ken Somolinos vs. Cacti. Edit by Ivan Iakimenko, song by Juno Reactor. For the 2015 Footbag Joulukalenteri Calendar.
Ken Somolinos is a very experienced footbag player, having travelled extensively around the world, helping build the scene in Japan and featuring in many competitions. Despite being on what many consider as the "wrong" side of 30, Ken is still going strong, not only competing at the World Championships, but taking fifth place in the routines event.
This video is thanks to Ivan Iakimenko, who has gone in recent years from a young up and coming player, to an all around footbag good guy – stitching great footbags, playing really well after coming back from serious injury and making some amazing video edits.
It's not the first time that Ken and Ivan have collaborated and hopefully won't be the last. You can see one of the previous efforts below.
Ken playing footbag. Edit: Ivan Iakimenko. Song: Cut the Kid Artist: Madeon