Footbag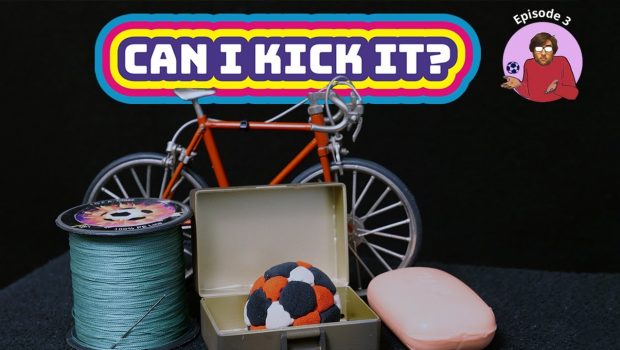 Published on January 20th, 2023 | by Daniel Boyle
0
Footbag Interview – Matt Kemmer – Passback Footbag
An interview with Matt Kemmer about his Passback Footbag project. Passback have been giving tutorials, shoe reviews and other trick advice in a stylish way.
Tell us a bit about Passback
PassBack is my love letter to freestyle footbag. This sport has given me so much in my life, and the channel is my way of giving back: to educate, to promote, and to entertain.
It's funny to think about now, but the original idea for the channel was to just review a potential shoe, post the video to the FaceBook group, and nothing more. Over time it's evolved into where it is today, with more of the focus shifting to new/potential players, but I hope that there's something that everyone in the community can enjoy.
Without the channel, I would continue playing footbag for the rest of my life, but with it, it's got me re-obsessed all over again. I think about the channel and the sport constantly, pore over old videos for ideas, and the channel itself is right up there with footbag as one of my favorite things to do.
You've been running Passback for over a year now – how is it all going? Is it different to how you expected?
A little over two years now! As of last week the channel hit 1000 subscribers for the first time, which is a really big milestone for a small channel (especially one in such a niche content area). Of course, I wish we'd have been able to get more videos done by now, but I guess that's how hobby projects tend to go. Despite that, I'm overall really happy with how things have gone so far, and the reception is always very encouraging.
Things are definitely different than what I expected. Like I said, the initial idea for the channel was very different; I definitely didn't intend to start a project that's mostly about promotion and education, but it seems obvious now that it's what the channel should have always been. I always hoped to reach a wider audience outside of the established community, but actually hitting 1000 subscribers is pretty wild.
Who else is involved in the project?
Originally it was myself, Ivan Iakimenko, and Kevin Hogan, but since the late summer it's (amicably) transitioned into a solo project for myself, with some occasional technical help from those guys. My training partner Will helps me with filming most of the single-trick short videos, but other than that, it's pretty much just me right now.
For the time being, I'm going to keep the creative side as just myself, but I'm open to someone helping out on the social media front! Preferably someone who uses and understands all of them already. It's just too much to keep up with as a one-person project, but it's one of the most important parts of growing a modern brand.
Many of your videos are getting large numbers of views. What's the secret to cracking the algorithm? What advice do you have for other players sharing their content?
Shorts/Reels are definitely the way to go for people looking to get lots of eyeballs on their videos, but the performance is a lot of it is luck. They say there's certain times of the day when it's better to post, but it really is a complete crap shoot. I've noticed more footbag shorts coming through my feed in the recent weeks, which has been great! Definitely seen some view counts in the 1000s.
For me,  my focus on those short videos is on keeping it digestible and understandable. I stick to 1 or 2 tricks, and make sure everything is visually clear (relatively understandably tricks, good lighting, slow motion, facing the camera with the important part, and visible bag).
The real benefit of the short videos is how low stakes they are: they take as long to film as it does to hit the trick(s), and the production is just slapping a filter and a song on top. If one doesn't catch on, it's only 15 minutes of lost work, but if it does catch on, it's a huge return on investment. I think this is also one of the best ways to digitally promote the sport. A lot of people are already scrolling through these kinds of videos and have 8 seconds to watch a single trick that could get them interested in more involved content.
How long did it take between when you first had the idea for Passback and when you started releasing videos?
I think the text message that accidentally birthed the channel was in March of 2020, and then the first video was November of that year. Apart from actually creating the video, the time in between was buying equipment, learning how to use it, setting up a space in my apartment to film, choosing a name, creating the logo, setting up all the channels, and getting experience in the shoes that I reviewed.
Since then, the time from conception to release has been pretty all over the place. Some videos have taken weeks, while others have taken half a year. Now, I've shifted my schedule around to have more dedicated time for the channel, and I'm at about a 3-week turnaround. Ideally I'd love to get 2 full videos out per month, but I'll shoot for a consistent 1/month first.
Have many people who are just starting out with footbag contacted you after seeing the videos?
I don't know an exact number, but a good amount for sure! I see many comments from people I've never met or heard of who say they started playing because of a video or tried some shoe we reviewed, which is always encouraging to keep going. I think like every person who makes YouTube videos, some days I feel a bit down that a video/the channel is not getting to more people, but I remind myself that every single person who might not have found the sport otherwise is a victory and makes it worth it.
What's your favourite video you have created so far?
I guess the most recent ones, which are the Set List videos. I think it's that cliche creator thing of looking back at your own work and cringing at what you thought was good at the time. Probably by the time I finish the next video I'll think the most recent one was not very good either, but that's at least a good reminder of improvement.
Apart from just being the most recent ones, they were the first videos that I did completely on my own, which was satisfying and affirming. The sets concept is also fun for me as the player; without that series, I would be happy to just play for fun and occasionally learn new tricks when they come up. But with it, I have a better reason to push myself to learn something like Illusioning, which I wouldn't have done otherwise.
You've looked at quite a number of different shoes as part of the project? What's your choice of shoe these days?
I don't think I really have one these days, because I only play in a certain shoe for as long as it takes to review it, then move on to the next one. The shoe reviews have really demystified that part of the sport for me, and I put a lot less stake in equipment now. Getting over that initial hump of not playing in Lavers took some work (because I'd played in them for 99% of 15 years), but now I see that all kinds of shoes can be good for the sport, and I look forward to trying new ones.
After trying so many, I think in general I'm liking ones with more of a springy and athletic feel to them. I'm also finding that many of these shoes come down to a case of "pick 2 of 3" between surfaces, weight, and feel, but I think that's OK, because everyone has different preferences and aspects that are important to them.
I don't expect everybody to buy potential shoes sight-unseen like I do, but I would encourage more people to explore some non-Laver shoes. They really are just shoes, and as long as something hits the baseline attributes, you can do good stuff in any shoe, as long as you take the time to get used to it.
What are your hopes and dreams for Passback in the future?
Too many to list. My primary goal for a while has been to be able to point someone at the channel who has never heard of the sport and for there to be everything they need to 1) understand it, 2) make them want to play themselves, and 3) guide them to actually start playing. I think it's almost there, but there's a couple holes that need to be filled in.
Apart from generally promoting the sport, I would like it to be a place that communicates why it's such a cool sport, propping up the amazing things that have been done in its history, and being something that someone can get obsessed with. It's not a goal of mine to just be Flipsider 2.0, but those things that I described is what Flipsider was to me when I was 15. I would like to be that for new 15 year olds who haven't found out yet that footbag is "their thing."
Your own game is looking good at the moment – what are you working on? Any dream tricks?
I properly learned Flurry a few weeks ago after a decade of being convinced that I would never hit it. It's about the only trick I want to do right now, so mostly that.
These days, my personal footbag life and my PassBack footbag life are pretty similar, so I don't have many goals outside of ones that are for the channel. For that new Sets series, I'm looking forward to learning a bunch of new ones, so most of those will be fun challenges. Of those, I guess Warping is the one I'd most like to hit, but that's a ways off.
It's great to see Will Digges back playing regularly again. Are you working on any other player returns?
Will came back all on his own! I was very happy to encourage him, but he wouldn't be back playing if he had not really wanted to. I don't actively try to bring back players, but maybe it could happen indirectly through a PassBack video that reminds them why they loved it in the first place.
You've been doing a lot of work on the rules of footbag. Where do you see footbag heading in the next few years?
I was for a time, but I have actually left IFPA as of the most recent election so that I can focus all of my footbag energy into PassBack. It's tough to say where exactly I see the sport going, but definitely in some kind of a rebuild phase. I think the sport itself is great, and will always be a strong foundation to stand on, but there's a lot of knobs that can be twisted to try to expose more people to it and get them interested.
Like I alluded to above, I don't think there's been enough work done telling people why it's such a great sport and why they would benefit from playing it. Those are some things that I'll be focusing on in my own corner of footbag. Even with all of its current problems, I find it hard to believe that there aren't thousands of people in the world who would absolutely love to play this sport but just don't know about it and why they would love it.
Who are your favourite players to watch at the moment?
Other than Will, my two favorite players right now are Chris Schillem and Dominik Simku. I was disappointed that Dominik had to drop out of Shred-Off, but hopefully those two can have a proper battle at some point.
Is there anything else you'd like to add?
Thank you to everyone for all of the support on the channel, and keep having fun with our wonderful weird sport =)