Gymnastics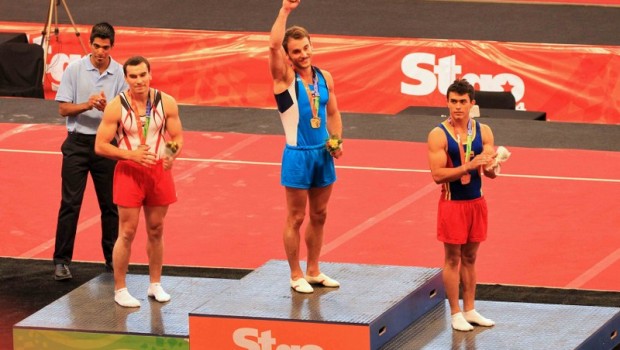 Published on March 12th, 2014 | by John Lyons
0
Double gymnastics delight on super Tuesday
One gold was expected, the other was a surprise, but they both meant just as much.
Santiago – It was super Tuesday for Chile in the gymnastics at the South American Games as Tomás González claimed his second gold in the vault, albeit along with Brazil´s Sergio Sasaki, and the unheralded Simona Castro triumphed on the beam.
It rounded off a fantastic effort by the hosts in the gymnastics – Chile´s haul of 13 medals (three golds, five silvers and five bronzes) was only beaten by Brazil (7-5-3) and Colombia (5-1-4).
Bumper crowds packed the new Gimnasio Polideportivo throughout the competition and made it a great atmosphere for all the gymnasts.
González, who had two fourth-place finishes in the London Olympics, had won his first gold on the floor on Monday and couldn´t hide his delight at backing it up in the vault. He tied with Sasaki on 15.083.
The 28-year-old said: "I achieved my objective in these South American Games and I´m proud to have competed here.
"The organisation is excellent and we have facilities that are of world level. In addition, in a few seconds I had the opportunity to show to the fans everything that signifies a life training and I relived the euphoria of the Olympic Games."
Team-mate Juan Pablo González claimed the bronze medal with a score of 14.516.
Meanwhile, Castro was just as chuffed after her own taste of gold medal glory. Her score of 13.000 helped her to hold off the challenge of Peru´s Mariana Chiarella (12.966) and compatriot Melany Cabrera (12.900).
"I´m very happy and excited," she said. "If you stay calm and do what you know, you can achieve your objectives."
And the 25-year-old took the opportunity to urge parents to think about gymnastics as a viable option for their children.
She added: "I would like that the parents encourage their children to follow a career in gymnastics. It´s not easy, but it bears fruit over time."
On the floor, Chile´s Makarena Pinto and Bárbara Achondo shared the silver behind Brazil´s Daniele Hypolito.