Tennis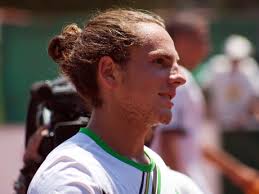 Published on June 30th, 2014 | by Daniel Boyle
0
Chilean Matías Sborowitz Wins First Title
Matías Sborowitz joined a growing list of Chileans who have recently won their first tennis titles, joining Christian Garín and Nicolás Jarry in opening the account at Futures level.
Sborowitz, who despite the title dropped in the ATP rankings to 669, took out the F7 Playa del Carmen tournament in Mexico, beating Mexican Tigre Hank (609) to take his first title in straight sets. After taking the first set 6-3, the second set was a closer affair, with the Chilean winning the tiebreak to finish off the match 6-3, 7-6 (5).
At 20 years old, Sborowitz is one of Chile's new generation, which includes Jarry, Garín and recently crowned Chilean number one Gonzalo Lama.
Jarry had the chance to add another title to his collection, but the lanky teenager was foiled in the final at the F3 tournament in Serbia, which had already seen a Chilean victory in the doubles. It was the hosts who proved victorious this time, with local Pedja Kristin taking the tournament in a three set battle.
The Serbian, ranked 270, finished Jarry off in a tiebreak to win 5-7, 6-4, 7-6 (5).
Sborowitz and Lama will return to South American action at the Challenger tournament in Manta, Ecuador this week, with both players having covered huge distances on recent tours. Hans Podlipnik will continue his European sojourn, playing the Todi Challenger in Italy.
After her first Grand Slam appearance at Wimbledon, Daniela Seguel (265) will take part in the ITF $50,000 tournament in Versmold, Germany. Her opening match will be no easy task, facing Anna Lena Friedsam (110) first up. Andrea Koch is looking to come through the qualifying at the Middelburg $25,000 tournament, also in Germany.