Vlog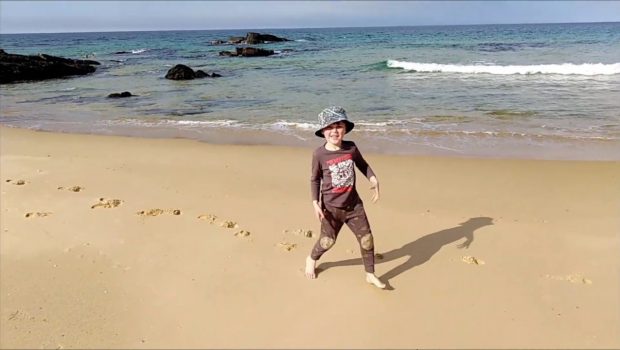 Published on June 10th, 2019 | by Daniel Boyle
1
Capital Eyes – Vlog 54 – Picnic Point
A picnic at Picnic Point exploring sea caves and fossils.
We took a recent trip down the coast – just the boys. Nico and I went to visit my Dad while the girls were away in Chile. I had been keen to visit Picnic Point for a long time, it would have been years since my last visit.
Picnic Point is located in the Mimosa Rocks National Park, off the road from Tathra to Bermagui. Both that road and the road into the national park are a lot better than in the days of my childhood. I have made quite a few other vlogs about trips down to this area of the coast.
There quite a few things to see at this beach, aside from the regular big views up the coastline. At the southern end there is a sea cave. The tide was high so the others didn't venture across, but I was able to wade through the water to reach the cave.
You can also see a fossil of a fish in the rocks at the other end of the beach. You can find a bit more about the geology of the area. We had a good time here. I had a short splash, the water was a little cool but not too bad for the time of year, just before winter.
What was a little surprise, and is not something you should catch on video, is a couple of people were snorkelling out on the rocks off the beach, but they had forgotten their swimming suits…
This was part of a trip further south down to Green Cape Lighthouse and the area around Eden. Hopefully that will make it into the next vlog.
I tried something a little different in this vlog – just using captions rather than talking about where we are and what we're doing. Not sure it worked any better, but it was worth a shot.