Football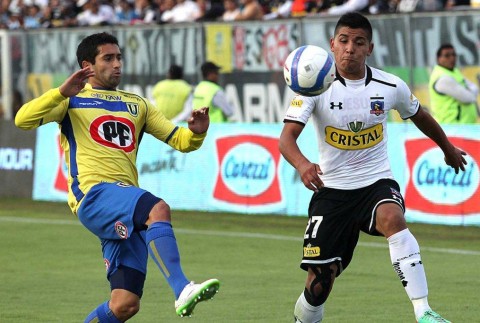 Published on March 31st, 2014 | by John Lyons
0
Bogey team U de Conce shock Colo Colo again
Colo Colo´s cakewalk to the Clausura title took a wrong turn as bogey team Universidad de Concepción beat them on a controversial night at the Estadio Monumental.
Macul – A Colo Colo victory would have put them ten points clear at the top of the table and given them the chance to lift their 30th title with a victory in the Superclásico at Universidad de Chile next weekend.
It could still happen, but it´s much less likely now. The albos would have to win and hope their closest challengers, Universidad Católica and O´Higgins, both lose.
And Colo Colo will head to the Estadio Nacional next Sunday without top scorer Esteban Paredes, who was sent off by Enrique Osses in the closing moments after arguing with the referee´s decision not to award a penalty for a push on him in the box.
The albos were also aggrieved that a spot-kick wasn´t awarded for a foul on Gonzalo Fierro earlier in the match. Afterwards, the two players both blasted Osses´s handling of the match.
A fuming Paredes said: "The truth is that he didn´t award a clear penalty and sent me off. I told him ´always the same, always the same. Yes, it was a penalty´.
"But there you go, we already know that Osses has committed various errors. The other time with la U and O´Higgins, and much more."
Fierro blasted: "Osses always complicates the game. He´s always a referee that´s involved in controversy. With Colo Colo, he wants to be the man of the match. He isn´t the best referee in Chile, he´s very poor."
Ironically, it was Universidad de Concepción who were complaining about Osses at the end of the first half.
The FIFA official awarded a free-kick to Colo Colo for a non-existent foul on Jaime Valdés deep in first half stoppage time and Paredes blasted home a brilliant 30-yard rocket that flew in off the post.
It was tough luck on U de Conce who had shut down the albos in the first half and created chances of their own, too. Those who thought the Campanil would be deflated by the goal were wrong as the visitors hit back in the second half.
The impressive Pedro Muñoz finished coolly for the equaliser in the 54th minute and Leonardo Monje drilled home the winner in the 67th minute.
Shell-shocked Colo Colo tried to hit back, but lacked their usual rhythm. However, they were unlucky when Sebastián Toro´s long-range thunderbolt crashed against the crossbar.
U de Conce held on to end Colo Colo´s 12-match unbeaten run and continue their excellent record against the albos. They´ve won five and drawn one of the last six.
Now it will be interesting to see how the Colo Colo players, who blasted the state of the pitch after Metallica´s midweek gig, react to the setback.
Universidad Católica must be kicking themselves now for not winning at Cobreloa on Saturday. They could have cut Colo Colo´s lead to four points with a victory, but remain seven back following a 2-1 defeat.
José Pérez and Gustavo Cristaldo scored for Cobreloa, while Tomás Costa netted a late consolation for Católica, who also had Milovan Mirosevic sent off.
Of the top seven before the weekend, only O´Higgins bagged three points – and they had to do it the hard way. Two Ever Cantero goals (7 and 14) put Cobresal in the driving seat, but the introduction of Pablo Hernández helped turn things around.
The Chilean international scored with a brave header in the 26th minute and won the penalty from which Diego Chávez equalised 12 minutes later.
Osmán Huerta won it for O´Higgins in the 50th minute with a fine finish, while dispirited Cobresal finished up with just eight players following three dismissals, including Cantero.
Third-placed O´Higgins have moved level with second-placed Católica on 25 points.
In-form Iquique crashed to a surprise 3-0 defeat at Ñublense, while Palestino were held to a 0-0 draw by relegation-haunted Rangers, who were bossed by Jorge Garcés for the first time.
Two of Chile´s Copa Libertadores representatives suffered defeats when they fielded under-strength teams in order to rest key players ahead of crucial midweek matches.
Universidad de Chile, who host Cruzeiro on Thursday, lost 1-0 at home to Unión La Calera, who boosted their survival chances, while Unión Española, who meet Botafogo in Brazil on Wednesday, crashed 4-0 at Santiago Wanderers. Gastón Cellerino and Leonardo Valencia both scored twice for the Caturros.
Improving Huachipato edged further away from trouble with a thumping 4-1 home win against Antofagasta. The 13th round finishes off tonight with a relegation six-pointer between Everton and Audax Italiano at the Estadio Elías Figueroa.