Footbag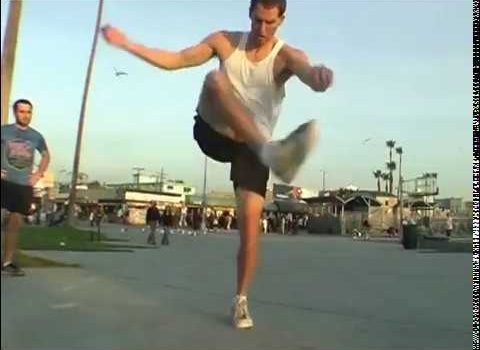 Published on December 13th, 2021 | by Daniel Boyle
0
2021 Footbag Joulukalenteri – Erik Chan Interview – Classic Videos
Erik Chan is a name well known across the footbag community. He is doing some important work in preserving footbag videos and bringing them online.
Today's Joulukalenteri video is a classic from Erik's collection – Purpose by Chad Devlahovic (better known as Big Add Chad).
In the coming days of the Joulukalenteri we will share some of the videos that you may not know are available online in the "Nonhackrifice" Youtube Channel collection. I asked Erik a few questions about how he makes it all happen. There's a table at the end with videos he is still searching for – reach out to him if you have some of these classics available.
Why did you start creating the digital copies of the old footbag videos?
At first it was just for the convenience of being able to watch my own VHS tapes on a computer instead of a VCR and TV. I had a pretty decent collection to start with. I may have even started this project before YouTube was a thing, just as a means to digitally preserve historical footage that was becoming increasingly inaccessible as VHS started to obsolesce. This also meant that I could lend out works from my collection without concern about getting them back damaged.
You've worked and studied in archives and libraries – how has this helped you with this work?
The biggest impact that archival work and study has probably had on the project is learning about the lifespans of various physical and digital media; for example, though I can't seem to quickly corroborate this online, VHS has a much longer lifespan than consumer-grade CD/DVD. That's helped to motivate my collection and preservation of as much footbag video history as possible before it is lost forever. In terms of my approach to cataloging and conversion, I didn't really look too thoroughly into professionally preferred methods since it just started as a casual personal project. The methods that I do use were moreso developed from my own librarian instincts, rather than any particular strategies learned in library school.
Do you have a particular system setup to get everything in order?
Initially there were so few videos that I didn't really need a system, just a basic naming convention to sort the video files in a single folder. Even once I'd built up a pretty large collection, this basic system continued to work for me. But as soon as I started reaching out to others to borrow or buy tapes I didn't already own, I needed some way to track which tapes I had, who they were from, who produced them, contact info for the producer(s), whether or not they'd granted me permission to publish them online, when I borrowed and returned them, conversion status, and so on. I built a spreadsheet with colour-coding and validation lists for this purpose. This helps especially because I take many years-long breaks between spurts of activity, so it helps me pick things back up after long absences from the project. Aside from the intellectual system, the physical process itself looks like this: I have a VCR and a VCR-to-PC converter that allows me to plug those old tri-coloured composite cables into a USB port. Then it's just a matter of playing the VHS tape on the VCR and capturing the playback with compatible video software, which I run on a dedicated laptop. Old footbag VHS tapes were long and ran from, say, 30 minutes to 2 hours. Typically I would crank the volume and let the recording process run while I multi-tasked on unrelated activities until I heard the sound stop in the background, at which point I'd run back to the laptop and hit stop, lol.
Is there a "missing gem" – something you're trying to find but haven't uncovered yet?
Sure. I've always looked forward to getting my hands on all of Jere Vainikka's films. I only have Bringing Out the Shred (https://youtu.be/A5mmQ1U7zdA), but would love to borrow copies of Alter Egos, Phatrix, and Shred Supreme to get online. I put out some feelers with the Finnish players, but didn't push too hard and it never amounted to anything. Unfortunately, with Bringing Out the Shred, I was told that someone other than Jere owns the rights, so I was unable to publish, but at least I have a backup copy along with my other files.
Has anything unexpected come through the process?
When I contacted Big Add Chad for permission to publish some of his videos, he not only sent me copies of tapes I didn't already have and had never seen, but he gave me a couple unpublished films that he'd never released before, which are now on my channel, "Big Adds!" (https://youtu.be/Xyc4sGK-eek) and "Purpose" (https://youtu.be/Ej8sEVFD1og). I've also had older school players reach out proactively to offer me tapes, like Lon and Alex Zerbe, which is really encouraging.
What video do you recommend a player who hasn't seen many footbag videos watches first?
If you're talking full-length VHS or DVD releases, I would probably say either "The Move" (https://youtu.be/T6TjpEPzi14), by Fabian Kollakowski or "Feet On Fire", by Honza Weber, Fanda Hajek, and Eli Piltz. Both show very pure and high-level shred (although from the early-to-mid 2000s) and are very minimally and professionally filmed and edited. Unfortunately, I wasn't able to get permission to publish the latter. These would also be my recommendations for any audience that isn't familiar with footbag, for the same reasons. If you're asking about any video in general, I would probably recommend something shorter and more digestible on YouTube, like Pawel Rozek's "The Footbag Zone" (https://youtu.be/YTHE_VFUm5A) with Olaf; this one shows one of the highest level players, beautifully shot and edited in one of the most artistic videos ever made in the sport, in my opinion. Another beautiful short is Max Kerkhoff's promo video for Worlds 2009 (https://youtu.be/ui3qiH7fAEI), which, if I recall, was actually sponsored by the city of Berlin and played on repeat on their subway system screens leading up to the event?
What can people do when they create videos now to ensure people can find them in the future?
That's a really tricky question that I've thought a lot about before and never really came up with a good solution for. I'm not very well-versed in search engine optimization for social media, though I'm sure I would eventually teach myself if/when I got around to tackling this problem more seriously. However, I would start with thorough and informative titles and tagging. I like to title my videos with this format: "Footbag: (year): (city, or most precise location known, eg province or country if city is unknown): (player name, if a solo video): ("video title") "(video producer)", for example "Footbag: 2002: Prague: Ales Zelinka: "Triple around the world" (by Dexter Stuz)". This isn't particularly useful on YouTube, aside from repeating information that should be in the tags and description (which I believe does improve searchability), but would make videos really easily sortable by filename in a folder or list. This format starts as broadly as possible (the sport) and progressively drills down as precisely as is known (the player and title), meaning all videos of the same year would be sorted together, and within that, all videos from the same region would be grouped together, etc. If I was to sort videos in a database, each of these values would be really useful as a separate field. Another strategy that can help consolidate videos into as few locations as possible is to publish playlists, either of your own videos, videos of a single player or event, or consistent subjects like this; since playlists are searchable, this makes searching for a single footbag subject a lot more efficient on a platform that values views, likes, and subscribers more than relevant search criteria. A couple related projects that I've taken a casual stab at were manually building a database of notable footbag videos hosted on YouTube and Vimeo, and writing a script based on known channels (I make a point to subscribe to all YouTube channels that I'm aware of that have ever hosted a footbag video) and keywords to collect and maintain as many footbag videos as possible, again in a searchable database.
What's something you haven't seen on video yet that you would like to see?
Eli Piltz released some edited footage from a project he was working on, called Eutopia. It was going to be his latest DVD release, including his "Ryan Mulroney Special" (https://youtu.be/t4l-X0SFMJ8), but it was never finished. I would love to see whatever exists of the raw footage, but I know he'd never release that. I'll just dream 🙂
Do you have anything else to add?
Sure, here's a list of tapes that I'm currently looking for. If you have leads on how to get me a copy of any of these to borrow that would be very helpful! Even better if you have notable tapes/discs that aren't listed here that I also may not already have. Also, check out the playlist of the work I've published so far with all producers' permission here: https://youtube.com/playlist?list=PLntBMkFr5845BP6WsnndCCOHPgUrsJF3z
| | | | |
| --- | --- | --- | --- |
| TITLE | DATE | PRODUCER | FORMAT |
| Alter Egos | 2003 | Jere Vainikka | VHS |
| Brian vs. Dan | 2000 | Dan Klokow | VHS |
| CSS 2 | ? | ? | ? |
| European Masters '99 | 1999 | ? | VHS |
| European Masters '99: Forbidden Techniques | 1999 | Sattund Durstig | VHS |
| Euros '01 by | 2001 | Sam Hufschmid | VHS |
| Footage | 2002 | Sam Colclough | VHS |
| Footbag Freestyle "Stalls 'N Dexes" | 2005 | Planetfootbag | DVD |
| FootJam '03 | 2003 | Pierre-Hadrien Bardeau/Fred Touzelet | VHS |
| IFPA World Footbag Championships 2005 Helsinki, Finland – The Official Documentary [dvd] | 2007 | ? | DVD |
| Phatrix | 2004 | Jere Vainikka | VHS |
| Pure Freestyle | 1996 | ? | VHS |
| Shred Supreme | 2002 | Jere Vainikka | VHS |
| Sunday in the Fort | 2002 | Jeremy Benton | VHS |
| World Footbag Championships 2004, The Directors Cut, Net DVD | 2004 | Yves Archambault | VHS |
| World Footbag Championships 2004, The Final Night, Freestyle DVD [dvd] | 2004 | Yves Archambault | VHS |
| Worship The Sack [dvd] | 2007 | Sam Colclough | DVD |