Tennis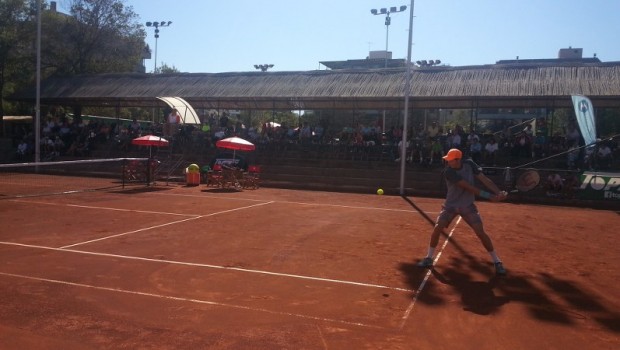 Published on March 22nd, 2014 | by Daniel Boyle
1
Lama and Jarry to Face Off in Providencia Final
Two of Chile's young hopes will face off in the final of the Futuro 1 tournament at Club Providencia. Nicolás Jarry and top seed Gonzalo Lama will meet in the men's, while Gabriela Ce (Brazil) will face Chile's Fernanda Brito.
The doubles final saw Brito combine with Camila Silva to take the crown. The top seeds overcame Argentina's Sofia Blanco and Nadia Podoroska. It was a disappointing day for Podoroska, who also fell to Ce in the singles. After losing the first set 1-6, the Chilean pair fought back to win the second in a tiebreak, before taking the match in the third set.
Earlier in the day, Brito has started well by taking the first set 6-3 over third seed Victoria Bosio. The Argentinian started the second set strongly, advancing to a 5-1 lead. Brito showed a fight spirit to take a 6-5 lead, but when serving for the match, failed to find rhythm on her serve, with Bosio forcing and winning a tiebreak. Brito finished the match off with a 6-3 victory in the third set.
In the men's doubles final, Jorge Aguilar and Guillermo Núñez took the prize in an all Chilean affair, overcoming Ricardo Urzúa and Victor Núñez in a three set affair. Aguilar, the third seed, was knocked out in the first round of the singles tournament.
Both Lama and Jarry moved to the final with straight sets victory. The first match on centre court saw Jarry beat Urzúa 6-3, 6-4. It will be the 18-year-old's second final of the year, having lost in the final of Argentina's first Futures tournament. Lama came out swinging against Brazil's Thiago Lopes, triumphing 6-2, 6-4.
Currently ranked at 334 in the world, Lama will look to make a jumping in the rankings, having fallen 27 places. Jarry will be looking to show the form which took him to a top 10 junior ranking in 2013. Play will start at 9.30am with the women's final, with the clash between Lama and Jarry to follow.