Tennis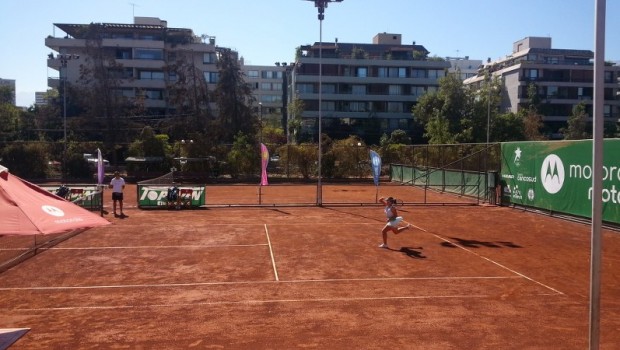 Published on August 8th, 2014 | by Daniel Boyle
1
Fernanda Brito Shines in Santa Fé
Chile's Fernanda Brito has impressed at the Santa Fé $10,000 tournament in Argentina, reaching the final with Camila Silva in doubles and semi-final in singles.
Brito and Silva have partnered up for the first time since winning the first Chilean Futures tournament in Providencia earlier in the year, with 21-year-old Silva having been absent from the tennis circuit since. Her only other appearance was the medal winning effort in the South American Games mixed doubles.
After reaching the final with a straight sets semis victory, the Chilean pair were unable to back up their efforts in the final. The top seeds were defeated by all conquering Argentinian duo Ana Victoria Gobbi and Constanza Monllau. That was not the first taste of Chilean blood for the victors, having knocked out Ivania Martinich and Barbara Gatica along the way.
While the doubles did not end in victory, Brito, ranked 468, has another shot at a title with a win in the semi-final to book a place in the decider. The Chilean overcame Brazil's Nathaly Kurata (570) to reach the semi-final, before beating unranked local Ailén Crespo in straight sets to move through to the final.
The second seed should be the slight favourite in the final, where she faces Argentina's Guadalupe Pérez. The fourth seeds is ranked 513 in the world.
Pérez dumped Silva, whose days as a top ten junior are becoming a distant memory, out of the first round. The Chilean, now ranked 966, gave little fight in a 6-1, 6-0 loss.
In Ecuador, Bastián Malla (654) has reached his first professional semi-final, beating Jean Yves Aubone (USA) in a three set fight, winning 5-7, 6-3, 6-0 over the number 542. He will now face local product Gonzalo Escobar (502) for a place in the final.
Hans Podlipnik (Germany F11) and Cristobál Saavedra (Georgia F2) will also see semi-final action in their respective tournaments.