Tennis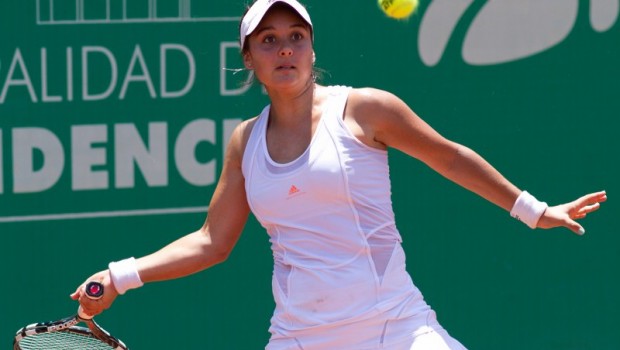 Published on July 18th, 2014 | by Daniel Boyle
0
Cecilia Costa Reaches Doubles Final in Belgium
Despite crashing out in the first round of the singles, Chile's Cecilia Costa will go for the title in the doubles alongside Spain's Aliona Bolsova.
Costa, who has been one of a number of Chilean players training at Justine Henin's academy, has join Bolsova for a giant killing run, having knocked the second and third seeded pairs out of the tournament. It was smooth sailing in the semi-final, knocking out Dutch duo Bernice Van de Velde and Kelly Versteeg in straight sets, winning 6-4, 6-3.
Their opposition in the final came through after defeating the top seeds in an all Belgian semi-final. Justine de Sutter and Sofie Oyen surprised the top seeds with a 6-4, 4-6 [10-5] victory over tournament favourites Magali Kempen and Nicky Van Dyck.
Like countrywoman and occasional doubles partner Daniela Seguel, Costa's doubles ranking is much higher, at 235 in the world standings, having reached her best ever of 230 in April. Bolsova, ranked 609 in singles, was a surprise packet, with no ranking in the doubles format.
Costa and Bolsova will go in as surprise favourites for the final, with the Belgian pairings rankings much lower. Oyen is ranked at 990 in singles and 1109 in doubles, but she proved in the first round that rankings are just a number, sending Costa out of the competition easily. De Sutter is slightly better ranked, coming in at 704 on the doubles charts.
The match will take place after 4:30 p.m. Belgian time on Friday.
It wasn't such good news for Chile's men, who fell apart at the semi-final stage. Cristobál Saavedra and Ricardo Urzúa fell easily in Germany's F8, Guillermo Núñez fell in a three set clash alongside Ecudaor's Ricardo Quiroz in Venezuela and David Fleming, partnered by Mexico's Eduardo Peralta-Tello fell in straight sets in Belgium.
Guillermo Rivera and Juan Carlos Sáez will hope to keep their winning streak alive at the F5 in Serbia, where they have reached the semi-final.