Vlog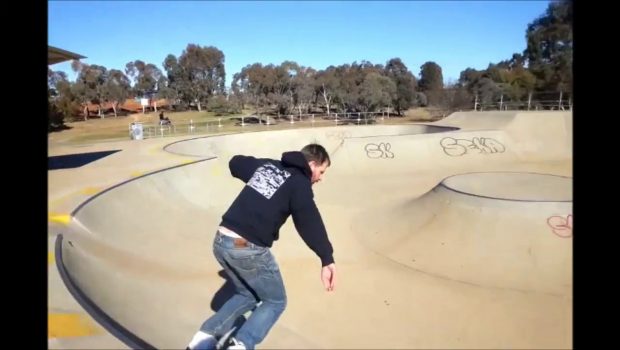 Published on July 29th, 2017 | by Daniel Boyle
1
Capital Eyes – Vlog 23 – Skating With Ferrit
A friend in town visiting for the match between Canberra Raiders and Melbourne Storm brought the opportunity to relive some old days on the skates.
As one does in this catch up sessions, we brought up how we first met. It was mid 2003, I was living in Sydney working in a warehouse packing computer parts into boxes. Every Wednesday night there was a rollerblader-only night at Vert X, an indoor skatepark in Padstow.
Here's an example of the setup there, which is unfortunately long gone.
I had seen this guy with long hair wearing different band shirts, but never had the opportunity to talk to him. With chains and spiked bracelets I have to admit I was a bit scared of him. Rocking up to the Gaelic Club for what I think was the first of many visits, I saw this same bloke waiting outside, in the early numbers of the line.
"Hey man!" I got a look that read exactly – who the hell are you. "Vert X" was enough, and that was the start of a great friendship with Ferrit that saw us in those front positions in many lines in the future. Aside from the shared interests, we also had a common South Coast background, with him from Nowra and me from Bega.
Bringing that coastal connection is another person briefly featured in the vlog, which is Paul Wicke, originally from Batemans Bay. Now that we are all much older, susceptible to injury and have young children, it's not so easy to get a skate session in, so it was great to have Paul briefly involved in our day.
Rather than continue the history of a long friendship, I will come back to last week. We managed to visit four skateparks, which was probably a bit excessive. By the last stop, Weston Creek, the energy levels were not super high.
The day started at Gungahlin skatepark, which is somewhere I visit reasonably regularly, and have actually made a previous video about.
We didn't have to go to far for the next stop, which was the Crace ledges. This was good fun and we were joined by Paul there. Time for a lunch break, and we went to Mr Papa for that before our afternoon switch to the southside. There we first visited Woden before finishing up at Weston Creek.
Those two have also featured in a previous video of mine. That same session ended abruptly when a bolt fell out of my skates, and as mentioned in the vlog I only got it fixed recently.
After all the physical exertion it was time for a drinks break and the Old Canberra Inn worked well as a destination for a well deserved ale. This is not a great picture but that's us together at the end of the day. The match was not much good for the Raiders, with it most likely marking the end of the season.
Hoping to catch up in Melbourne for the final round of the season, when the Raiders travel to Melbourne.