Water Ski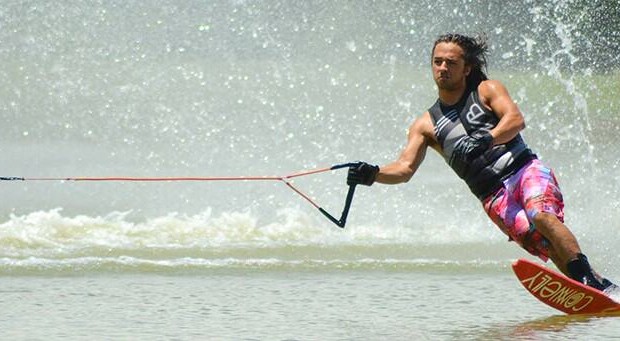 Published on November 29th, 2013 | by Daniel Boyle
0
Water Ski World Championships – Santiago Varas Interview
I LOVE CHILE WAS IN ATTENDANCE AS THE ACTION CONTINUED TO UNFOLD ON LAGO LOS MORROS FOR THE WORLD WATER SKI CHAMPIONSHIPS. YOUNG CHILEAN SANTIAGO VARAS SHARED HIS THOUGHTS WITH US.
LOS MORROS — Santiago Varas broke his personal best in a day of jumping which saw the Chilean Miranda brothers also impress. I Love Chile caught up with Varas shortly after his jump. The 59 meter jump was the best from Serie 3, the first men's event of the day.
Tell us a bit about what having the World Championships in Chile means to you, and about your performance so far
Well, this is my first time competing at Worlds. The fact that it's right on my doorstep makes it all very special because all my friends and family came to see me. The fact that I did well was very special to me and makes me very happy to be here.
Your first jump today was your personal best
Yes, that was my best jump by half a meter.
How about the overall Chilean performance?
I think as a team we've done really well. We can still improve because two of Chile's top jumpers will be competing son and we can improve our score as a team in the events which we have people in finals.
How is the water skiing scene in Chile?
It's growing quite a lot because there's a lot more people getting into it, we have the right conditions to bring them up to a very competitive level, even the world stage.
There are number of Chileans on the world stage – do you think this is recognized by the general population of Chile?
Yeah. I mean, a lot of people are coming up and telling me they are seeing me in the news, seeing the event in the news. I think there could be more publicity though. This is the biggest event there is in the sport. I think there could be a lot more done to publicize it and make it more appealing to the public.
Where are you based for your training?
I live in Seattle, Washington. I train with my Dad and the rest of the family. We stop for about five months a year due to the cold. That gives me some time to recover. I wish it was less, then I could ski more. It gives me time to recover and think about my season.
We've just seen one of your competitors crash land. What does another skiier think when they see that?
If you're up next it's definitely a bit intimidating, but when that happens you've just got to get it out of your mind and take into consideration that it was probably an error they made. You have to try to jump safe. You have to try try to push the limit within your skill level.
How is the funding for wáter skiing in Chile?
The federation has been really helpful, they finance a lot of things like housing, food, even my plane tickets on occasions. They definitely facilitate it so we are able to compete and ski at the top of our level.
What's your plan from here?
I've done all three events here. If I don't make the finals, I'm done here. I'm planning on going to college and hopefully be able to ski while studying. If posible I'd like to be on the pro tour and do what I can. It's very hard to make a living just from skiiing. I'll have to have a job on the side. I'm going to study mechanical engineering.
What's the first step for someone who wants to get into the sport in Chile?
The first step is to be able to get up and do your thing. The most important thing is to have access to good conditions. A place where you can ski like this one, where you have good coaching, so you can have the proper foundation.
What are your thoughts about the venue?
This might actually be one of the best ski lakes in the world. It's very shielded from the wind from the tall trees. The wind is mostly a headwind, which is actually good because it will give you more lift off the ramp.
Are you into any other sports?
I like to do snow skiing, but water skiing is my main sport.
Do you think your jump will be enough to send you to the finals?
I don't know. There's definitely going to be some high level jumping going on. Hopefully. If not, I know I gave it my all.
Any thing else to add?
I'm glad to be competing and representing Chile.
The World Water Ski Championships will continue with the finals taking place over the weekend. More information can be found on the official website.
This article originally appeared on I Love Chile.