Footbag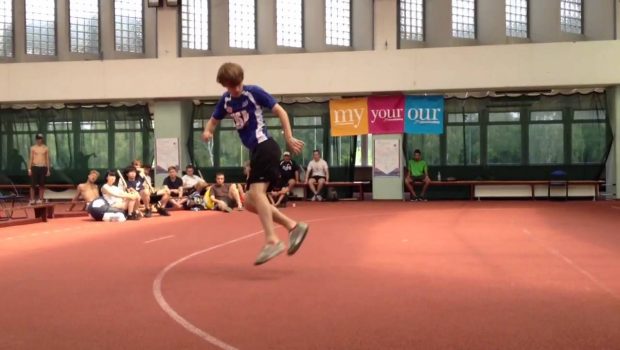 Published on May 23rd, 2018 | by Daniel Boyle
1
Footbag on Instagram – May 2018
This is the second edition in a monthly roundup of footbag clips from Instagram. You can see the previous round here.
I've been trying to put a clip up myself each day, though it's not always possible, especially with a new baby.
I was happy to catch the autumn colours, as well as the weird statues of the Canberra city centre today with this clip.
Here's a few clips.
Endless Rhodes
First up we have some unique style from California's Dustin Rhodes. A finalist at Worlds in 2013, we haven't seen so much video of him lately, so it's great to see him showing these tricks.
Boats Bags
Sticking in the USA, and continuing with the unique style, is Mr "Boats", another of the recent additions to the growing ranks of footbag players on Instagram.
As Matt Cross says in the comments: "My favorite thing about your style is that nearly every trick is a surprise."
Double Trouble
The next trick is from Sergio Garcia and Paloma Mayo, I'm not sure I've seen this trick down before. A good chance to come to close for comfort on the Magellan trick there!
The Bruce Li of Footbag
Bruce Li has been an exciting prospect in the footbag world, bringing his Jianzi skills from competing at the highest level in the freestyle shuttlecock events.
I haven't seen his Instagram before so I've actually delved a little into the past to get this clip.
Hands and Feet
This clip is not essentially footbag, but it is impressive nonetheless. It's from Erin Stephens, an awesome juggler. She has a number of these feet and hands combos on her Instagram page.
Camping Hacks
A lot of people got into circle kicking and footbag through camping, hiking and adventure magazines. This clip shows someone bringing back their own memories through playing hack on the campsite. It also makes great use of the "Boomerang" style.
Vietnam
Once again, not strictly footbag, but just take a look at how many people are playing. I've been in Vietnam and this is a regular scene with people playing the sport of  đá cầu, another shuttlecock game.
And the crowd goes wild
Taishi Ishida has done so much great work for footbag in Japan. Here he is giving a live performance and getting a great reception from the crowd.
Road to Recovery
This post shows footbag as a piece in the road to recovery from an ACL injury. It also show great control and improvement.
Big Background
Here's the regular clip of someone doing a footbag trick in front of an awesome natural landscape.